Ideas to suit your holiday mood in Bali
Bali is always a good idea, whatever the occasion, but especially so during major holidays. Consider yourself lucky if you already have plane tickets and a hotel room for spending your yearend holiday on the "Island of the Gods". But have you an itinerary for your precious days in paradise? Here are some ideas from The Jakarta Post:
Cultural Immersion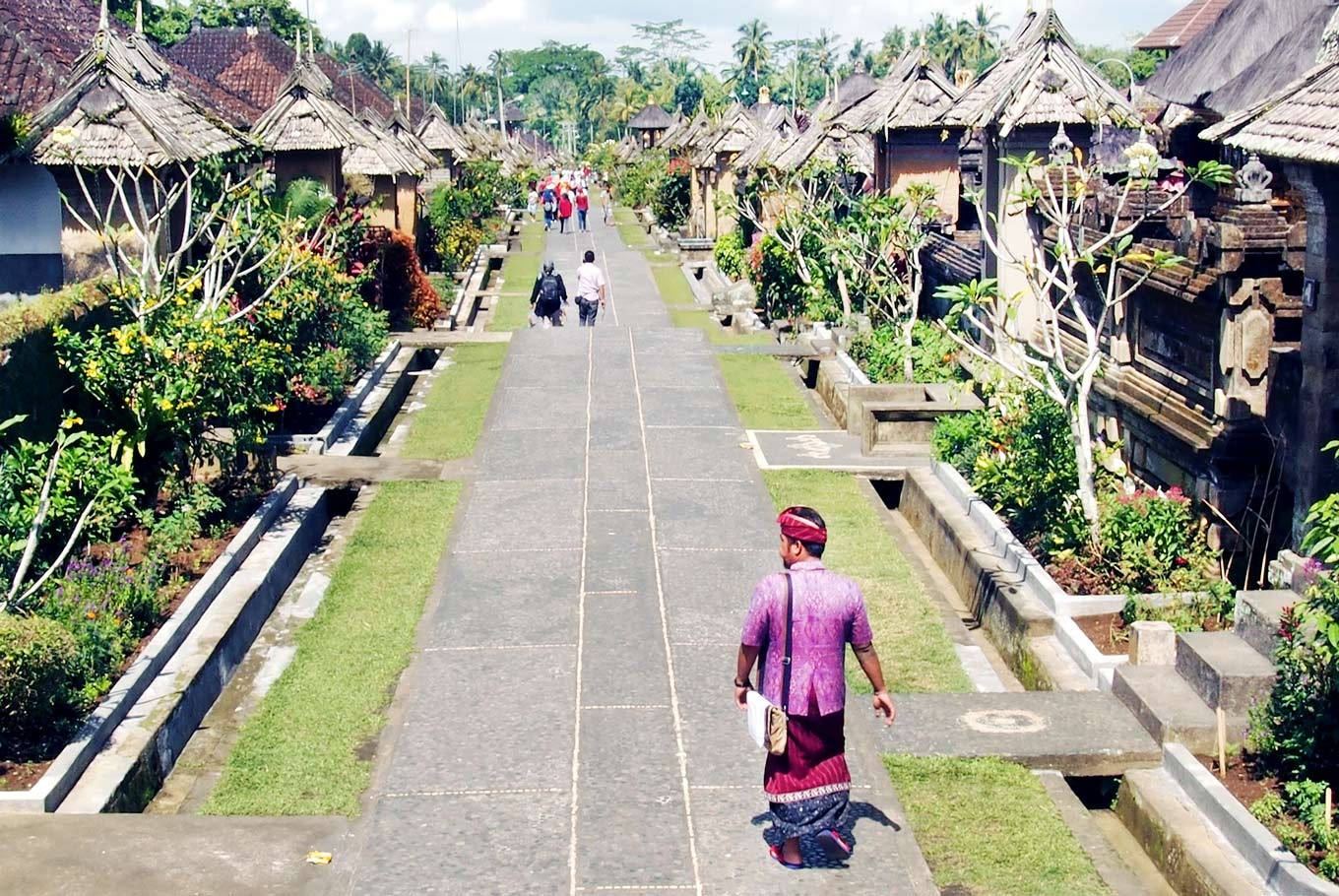 Penglipuran village
There's always a first time for everything, including northern Bali. Located in Bangli regency, Penglipuran is a customary village that is known for its authenticity. Each house in the village is built in a traditional architectural style with roofs and walls that use bamboo and bricks. Their angkul-angkuldoors are wide enough for only one person to pass through at a time. Village temples, lots of trees and no cars make this village a relaxing getaway where visitors can experience local village life.
Tenganan village
December, January, February and June are the best times to visit Tenganan, a customary village in Karangasem regency. Tenganan preserves the Bali Aga traditional culture in its village rules that cover natural resource usage rights, marriage and ceremonies. While gender equality is part of the village culture, Tenganan men and women are required to maintain the village bloodlines. Visitors may not stay in Tenganan, but are welcome to watch its traditional ceremonies.
Sidemen village
Boasting picturesque views of Bali's famous rice terraces, marching ducks and Hindu priests walking to the village temple under Mount Agung's watchful gaze, this village in Karangasem regency is also famous for its handmade textiles. Sidemen textiles are crafted using natural dyes and traditional motifs like nagasari, cempaka and celedan.
Natural Attractions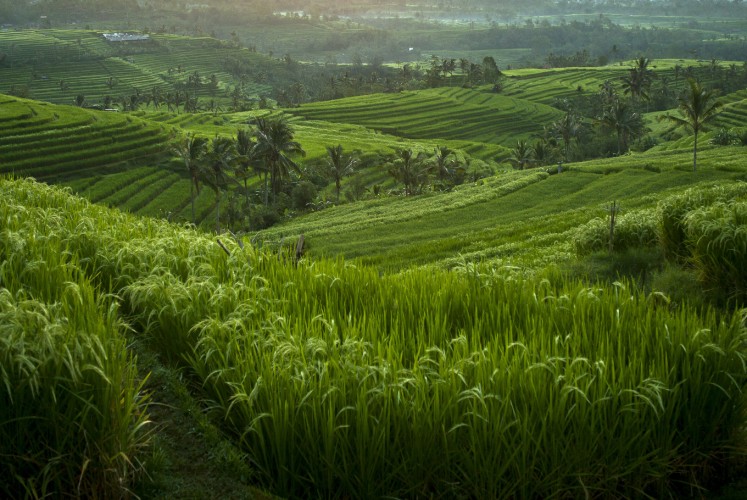 Green Village Bali & Kul Kul Farm
Immerse yourself in sustainable living at Green Village Bali in Abiansemal subdistrict, Badung regency. Take a walking tour through a bamboo forest, visit the houses and villas made entirely from bamboo, and join a bamboo workshop. Intrepid gardeners and horticulturists will be drawn to the nearby Kul Kul Farm, which provides permaculture courses on home gardening, eco-living and regenerative farming.
Jeep excursion
Among the many packages of travel specialist Eoasia, a full-day jeep tour of scenic Bali could be an exciting choice. Starting out early in the morning, travelers are whisked away on a jeep along main roads and past quaint villages to the famous Jatiluwih rice terraces and Batukaru temple, a sacred mountain sanctuary. The tour also takes you past cacao, mangosteen and pomelo trees, with a roadside "coffee break" to enjoy locally grown coffee.
Pupuan Road trip
Head to Jl. Pupuan in Tabanan and you will find coffee, cacao and clove plantations lining both sides of the road. Pupuan also leads travelers to Dharma Giri Vihara, where a large, gleaming white Buddha statue lies in slumber for all eternity amid a lush forest. While you're in the area, set aside some time to visit Pujungan waterfall, also known as Blemantung, descending in a spray of white foam from a 25-meter cliff.
Marine Leisure
Phinisi sunset cruise
Why not enjoy the Balinese sunset from a different perspective? Instead of spending the magical hour with a beachside cocktail, opt for a sunset cruise to Menjangan Island this time. To add more magic, try Plataran Private Cruises' phinisi, a traditional schooner, for a 2-hour island cruise in West Bali National Park.
Anchor Wreck
Need to balance out the relaxing cruise with a brief adrenaline rush? Try diving at Anchor Wreck in the waters of Menjangan Island. The dive site features the wreck of a wooden boat and two – not one – anchors nestled among the coral at a depth of 30-50 meters. Expect to see numerous sea creatures including the whale shark, clown fish, seahorses and mola. And please make sure you have the appropriate diving certification.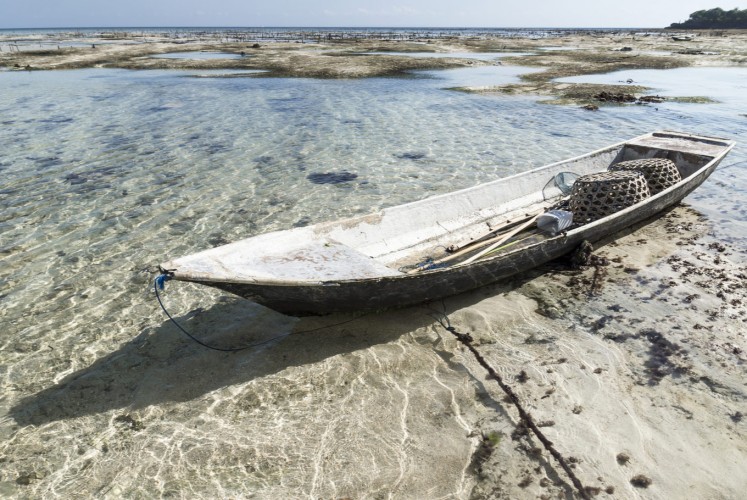 Nusa Lembongan mangroves, seaweed farms
Drifting further from "mainland" Bali, head to Nusa Lembongan with its well-preserved mangrove forests. The island offers a tour on a non-motorized boat to protect the mangrove ecosystem. Another activity to consider is harvesting the seaweed with local residents at Seaweed Heaven. For an extra treat, try a spa treatment afterwards using the seaweed you've harvested yourself.
Club Hopping
Manarai Beach House
Even if you are traveling with your kids in tour, a "detour" to a hip beach club is not just acceptable, but perhaps necessary. First, take advantage of the babysitting services available at most five-star hotels to make sure your young ones are left in good hands. Then head out to one of the newest beachfront destinations: the Ismaya group's Manarai Beach House, located in front of the Sofitel Bali Nusa Dua Beach Resort. Manarai features two swimming pools, poolside beds and lounges for leisurely sunbathing.
Omnia Dayclub
Open to guests only above 21, the Omnia Dayclub was brought to Bali by the Hakkasan group, renowned for its flagship Omnia Nightclub in Las Vegas. Perched on the limestone cliffs of Uluwatu, the day club is also popular for The Cube, a shimmering silver pièce de résistance that lights up after dark on its perch at the end of a pier jutting into the sea.
Tropicola Beach Club
With its colorful visage appearing frequently on social media feeds over the past few months, Tropicola is among the "it" destinations for beach club hunters. Located on Jl. Pantai Batu Belig in the ever-lively Seminyak area, the beach club serves a variety of appetizing foods and drinks. Go just to satisfy your curiosity and decide if it's worth a return visit for more than a selfie.
Wellness Retreats
COMO Shambhala Estate
When it comes to wellness retreats, COMO Shambhala is top of mind for its offerings of yoga teachers, an Ayurvedic doctor and resident dietician all ready to provide holistic healing in its vast and airy natural environs. Something that sounds as simple as "Estate Walk" is actually a fitness challenge that involves rigorous hiking and climbing. Its freeform pools are highly irresistible, so be sure to always carry a swimsuit with you.
Fivelements
Positioned as an ideal honeymoon destination, Fivelements in Mambal village, Abiansemal subdistrict, also welcomes children with open arms. But beyond that, the establishment is an ideal and idyllic retreat. Among its wellness programs are holistic Balinese-inspired healing therapies regeneration and detoxification, and a signature culinary retreat that features plant-based foods for health, beauty and longevity.
Desa Visesa Ubud
Presenting a Balinese village concept where guests can experience Bali's wealth of traditional rituals and cultural heritage, the luxury resort is also well known for its healing spa that uses medicinal plants. Signature treatments include energy-balancing rituals to reduce stress and induce deep relaxation, conducted in natural caves surrounded by a jungle view.